Weather Layout for Newspapers
At EJS Weather we specialize in creating customized weather layouts for traditional newspaper publications. Our staff of meteorologists are committed to providing detailed custom weather forecasts for your specific location. Our graphic artists can design layouts to fit any size requirements that you may have. (If your layout size changes we will be glad to accommodate you without any charge for that service).

Listed below are some of the layout features we provide. These samples are rendered in compressed JPG format for rapid display by your browser, these graphics do not display as well as the actual products.
<![if !supportEmptyParas]> <![endif]><![if !supportLists]> <![endif]>
5 Day Forecast or a 7 Day Forecast
One of the most important feature of the weather layout is the 5 Day Forecast or the 7 Day Forecast, which gives the high and low temperatures as well as weather conditions for the readership of the newspaper. Daily newspapers typically run a 5 Day Forecast while a weekly newspaper typically presents a 7 Day Forecast. This can be customized to the newspaper's specification as needed.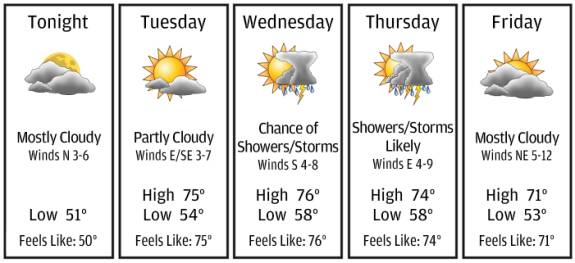 Regional Outlook and Map
The regional outlook and map provides detail weather information for specific cities in your particular region. The regional map can be inserted in the newspaper layout as is or it can be accompanied by a written description of the weather over the next 12 to 24 hours. The regional outlook can also include a marine forecast if applicable.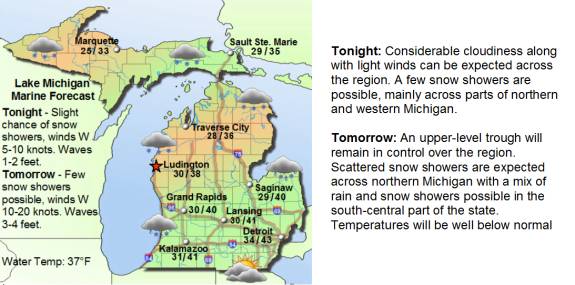 National Weather
EJS Weather provides daily national maps of forecast high temperatures, forecasted weather, synoptic features, and jet stream positions. These maps will have the latest information so no matter whether you go to press in the morning or evening you will always have the most up to date information. Along with the National Weather Map you also have the option to include a written description of the weather pattern across the country illustrated on the map.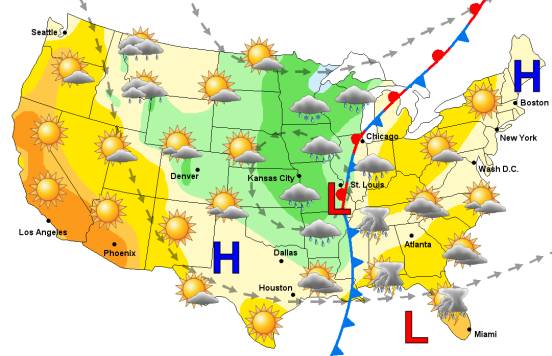 An area of low pressure will develop over the lower Mississippi Valley and move northward into Missouri. Periods of showers along with some embedded storms are likely across the Midwest, Missouri Valley, and Ozarks. Scattered storms are also expected throughout parts of the Tennessee Valley, Deep South, and Florida. High pressure will keep mild and dry conditions in place across the Northeast.
National and World Cities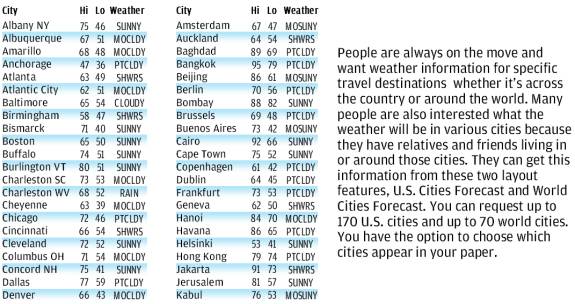 Almanac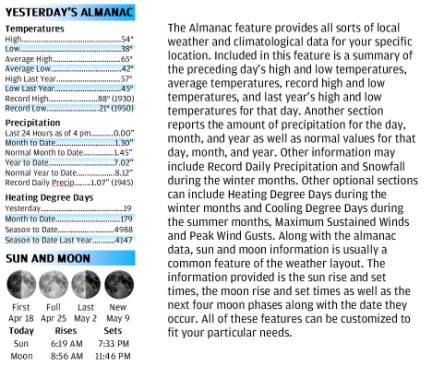 Other Features
EJS Weather also provides other features such as Regional Highs and Lows, Marine Forecasts, Tide Tables, Air Quaity Indices, Pollen Counts, National and State High and Low Temperature Extremes, River and Lake Levels and Trends, UV Index, Weather History, Astronomy Facts for the Day, and Fire Danger Index just to name a few.
Listed below are samples of weather layouts we provide. These will show some of the features and layout sizes that are available. Remember, we can customize to your specifications and provide any of the features that you wish. Prices are competitive and are based on circulation size, layout content, and layout size. At EJS Weather, there are no contracts and no hidden auto renewal clauses.

• Newspaper Layouts - Sample 1 (pdf) | Sample 2 (pdf) | Sample 3 (pdf) | Sample 4 (pdf) | Sample 5 (pdf) | Sample 6 (pdf) | Sample 7 (pdf) | Sample 8 (pdf) | Sample 9 (pdf) | Sample 10 (pdf)